Records and Information Management
Records storage supplies
Gain quick access to your inventory and improve governance.
Shop online
Pathway to information governance
As you evolve your Records and Information Management (RIM) program you need the proper tools and supplies. With Iron Mountain boxes and RFID labels you set yourself up for secure storage and easy, repeatable inventory audits. With RFID technology, you'll gain confidence in your inventory location when responding to customers, stakeholders, and external or internal auditors.
Boxes and labels
You can purchase an Iron Mountain box and an RFID label to accompany the Iron Mountain box. With RFID you can verify the location of your physical assets and demonstrate the controls you've placed over your inventory.
Prepare the information you want to store offsite by putting it in an approved storage box and applying an RFID label. This enables a repeatable audit process by leveraging the RFID chip within the box label. You'll be able to provide proof of controls and prove your security requirements with the utmost confidence.
Explore the Iron Mountain box and RFID label:
Built-in hole for zip tie
Added level of security
Additional protection of your information
Zip ties sold separately
Three-inch lid
Additional durability during transportation and storage
Won't warp or blow off
RFID label
RFID is the leading technology in asset and inventory tracking
RFID chip pre-associated with barcode
RFID labels are sold separately
Shop online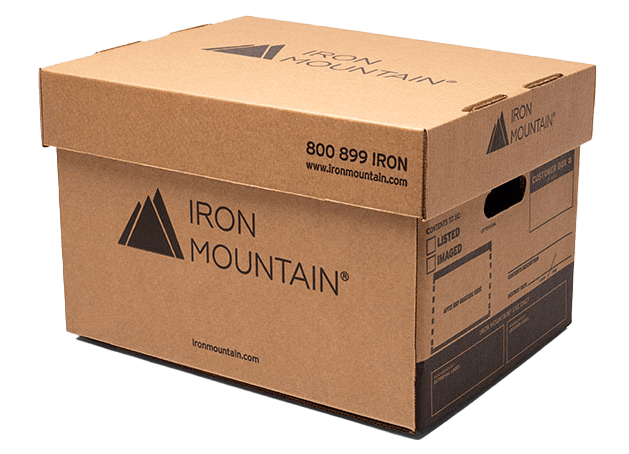 How RFID works
All net new information stored at Iron Mountain is packed in boxes to which you have applied an RFID label. The label contains a chip that can be detected and scanned by RFID readers.
RFID readers scan for a passive radio frequency signal produced by the chip located in the rfid labels.
How RFID audits works
An RFID signal transmits location data from the reader to the Iron Mountain database, securely verifying that the boxes are stored in the proper place.
We make it easy to get started.