Recognized for top-notch communications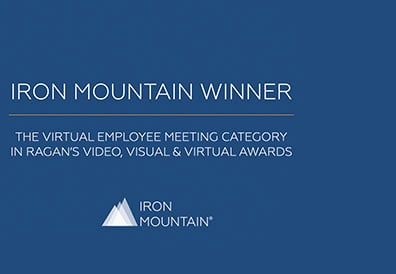 Iron Mountain's Global Communications Team was recently awarded "Best Virtual Employee Meeting" in Ragan Communications' 2021 Video, Visual, Virtual Awards. The award acknowledges the team's excellent work producing the company's January 2021 Global Kickoff meeting for its workforce of 24,000 Mountaineers.
Additionally, the Team received Honorable Mention for the following categories:
Ragan Communications is a communications best practices and training network for professionals in the field of internal and external communications, creative arts and brand across a wide variety of industries. We are pleased to be among other strong award winners from Citrix, Whirlpool, ServiceNow, Hilton, GSK, Deloitte, Siemens USA, Prudential and Panera Bread.
Elevate the power of your work
Get a FREE consultation today!