Records Management - how it works
Videos and Webinars
Keep your business and customer information safe with an offsite data storage and records management solution by Iron Mountain.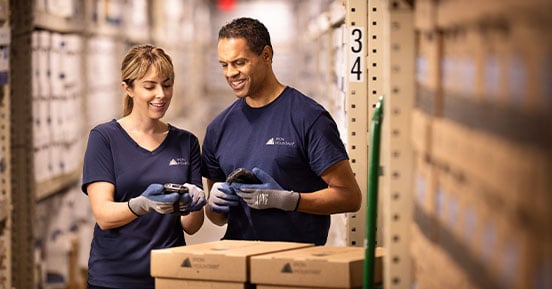 Transcript
Managing your piles of boxes and stacks of files manually is costly & time consuming, takes up valuable space and makes it difficult to stay compliant with regulations.
But most importantly—it puts your business and customer information at risk.
With an offsite storage solution from Iron Mountain, you can ensure your documents are available when you need them and safe when you don't.
So how does it work?
First, we work with you to tailor a storage package to your needs.
Then, an onboarding specialist will walk you through the storage process and, show you how to use your online account tool—the Iron Mountain Connect portal—to schedule pick ups and retrievals of your contents.
Once you schedule your service online, simply prep and pack your boxes, or use our standard boxes with RFID labels, specially designed for long-term storage.

For added convenience, we can even do the packing for you.

Driver: [We want to make things as easy as possible for you, that's why we work with you to file, organize and pack any of your documents or business assets—labeling and indexing the contents as we go making it easy for you to find what you want, when you want it. And don't worry about what kind of boxes; you can use yours, or Iron Mountain's]

Once your boxes are ready, they'll be picked up by our local, uniformed driver who is trained to follow our patented chain of custody—InControl Solution—ensuring nothing is ever lost.

Driver: [We scan your boxes at every touch point—at your office, when they enter our secure trucks, and again when being placed into storage]

Once in storage, your boxes are protected by rigorous security and safety features—including advanced fire protection and alarms, perimeter fences and 24/7 security monitoring.

Warehouse person: Scans

Warehouse person: [When it comes down to it, we want to ensure that no matter what and how much you store with us, it's kept safe and secure.]

And with Iron Mountain Connect, you can easily determine if you need your entire box returned to you, or have specific documents sent to you by email or fax.

Simply put—at Iron Mountain, we take care of your information as if it were our own.
Featured services & solutions
Elevate the power of your work
Get a FREE consultation today!