2023 banking trends a perspective from Iron Mountain
Whitepaper
Current economic headwinds create new pressures on banks, so stability and resilience are essential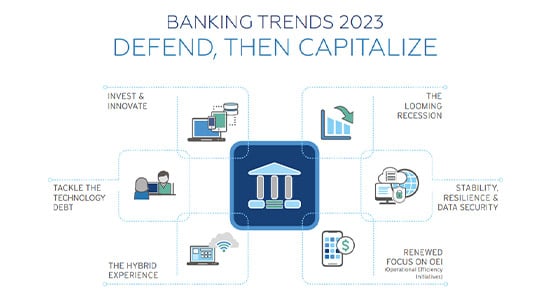 TRENDS THAT DRIVE INNOVATION
WHAT TRENDS WILL BANKS CONSIDER AS THEY DRIVE CHANGE?
Current economic headwinds create new pressures on banks, so stability and resilience are essential. However, innovation and digital transformation must be priorities for banks to deliver customer value and remain competitive. We've reviewed predictions and perspectives from the experts to share key themes around banking industry challenges for 2023.
Economic uncertainty creates a need to balance stability with innovation.
Interest rates and inflation are high, and consumer demand is slowing. Economists say there's a 7 in 10 chance the U.S. will see a recession in 2023. Yet, while battening down the hatches and waiting for the storm to pass, forward-thinking banks need to invest in innovation to be prepared for when the economy turns around. Banks should explore new sources of value beyond the current thinking.
Efficiency in banking processes is a way to cautiously gain ground.
It's important for banks to prioritize operational efficiency and cost control. "Process miners" will be seen as heroes for banks as they focus on operational efficiency and effectiveness initiatives.
Banks are challenged to provide a more compelling digital customer experience.
During the pandemic, customer experience (CX) was transformed to involve more digital and hybrid interactions. Customers now demand digital services and have high expectations.
Banking organizations compete by delivering new sources of value, often based on technological advancements.
Adopting advanced technologies can be a way to gain greater operational efficiencies and maintain a competitive advantage. Digital inertia and a lack of technology investment will come at a cost to banking organizations.
Digital transformation is forging ahead in the banking sector; don't get left behind.
Everyone is looking ahead to the digital end game, and banks are realizing that digital transformation has the ability to unlock cost savings and business value. Banks have plenty of data, but they often lack the means to derive value from it. Accelerated digital transformation gives banks the tools to transform the foundations of banking.
Resource constraints lead to prioritizing conservative objectives.
Banks are facing resource constraints including loss of productivity due to attrition among existing talent and challenges in recruiting new talent. They are now prioritizing more conservative objectives — customer experience (CX), operations excellence and new products/services — above revenue growth. Initiatives around operational efficiency and effectiveness are a priority.
Want to continue exploring?
Enter your information to access the full content.