How are these digital trends transforming business?
Blogs and Articles
Modern business challenges call for innovative solutions, but what do terms like IT asset disposition and digital transformation actually mean, and how can organizations benefit from these shifts in the way data is managed?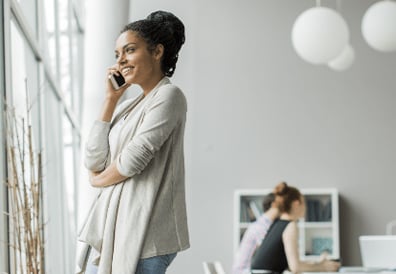 Here are a few of these digital trends and how they are advancing organizational transformation.
Information management
Information management means faster, easier access to data through the collection, storage, curation, dissemination, archival, and disposition of physical and digital assets, while ensuring compliance with legal and governance policies. To improve productivity, efficiency, and business insights, find ways to unite your physical and digital data. If paper documents are packed away in physical file cabinets, they can't easily be shared outside your office walls. And if no one knows what's in those files, it's both time-consuming and expensive to find out. Make the call as to whether these files should be stored offsite, digitized, or securely destroyed altogether.
Information governance advisory
Digital transformation
Any initiative that includes adopting or integrating technology to improve business processes is a sign of digital transformation and progress within an organization. This could mean incorporating artificial intelligence and machine learning capabilities into your call center to support round-the-clock customer support, or moving from onsite servers to cloud-based solutions. Another example is to take stock of your traditional mailroom system and decide how much of your operations can be digitized. Not only will this save time and cost, but it will better support remote work options for your team.
IT asset disposition
IT asset disposition, or ITAD, means securely recycling, remarketing, or destroying retired IT equipment to preserve business data, comply with environmental regulations, and strengthen brand reputation. Your organization's IT assets contain tremendous amounts of vulnerable data and should remain private and secure. Even when discarding retired IT equipment, your business' and customers' data still needs protection. This is why all retired IT equipment must be securely destroyed or managed once your organization is done with it.
Data centers
A data center is a physical facility that centralizes and secures an organization's shared IT equipment. Housing your infrastructure in an offsite data center provides access to a rich ecosystem of service providers, clouds, and customer networks to optimize choice, performance, and cost effectiveness. You can expand your business wherever you need it with global, national, and regional carriers, offering a full suite of integrated services for information management, network continuity, and backup recovery options. Whether your business needs single-rack storage or hyperscale deployment, data centers ensure greater security, cost efficiency, and peace of mind.
Cloud services
Speaking of data centers, the way you access your information housed in offsite storage facilities is through the cloud. Cloud services provide IT as a service over the internet or dedicated network, with on-demand access to data and without the need for costly on-premises infrastructure. With cloud-based solutions, your team can work securely from anywhere, collaborate on shared documents, and communicate from any device while on the go, which supports a more productive and flexible workforce.
To adapt to today's way of working and to better serve the changing needs of customers, consider the ways your organization can evolve its business processes. We can help you protect and unlock value from your physical and digital assets, no matter the format, and provide the key to a fully transformed and integrated enterprise
Elevate the power of your work
Get a FREE consultation today!