Iron Mountain® Digital Pathology On Demand
Solution Guides
We can help you streamline lab workflows, improve collaboration, and securely offload long-term slide and digital image storage.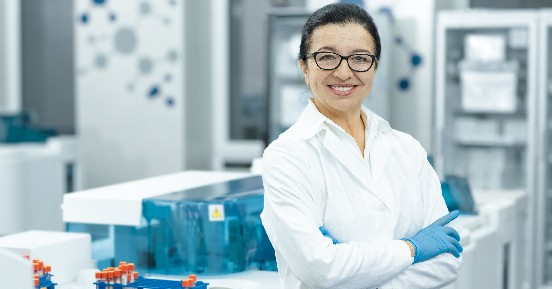 Digitize Pathology Slides
---
Business challenge
Lab managers and pathologists are challenged to manage an ever-growing volume of slides and blocks while maintaining inventory integrity and on-demand physical access. Digital pathology can help solve some of these issues but comes with its own challenges, not least of which is an explosion of data that needs to be secured, stored, managed, and preserved in addition to the physical slides, which need to be stored for at least 10 years to meet FDA regulations.
---
What if you could
Digitize slides and entrust digital and physical storage to an experienced partner that can help you:
Streamline lab workflows by providing rapid retrieval of images.
Facilitate collaboration with the ability to view and mark up slide images in real time.
Leverage a holistic service spanning the entire physical-to-digital pathology lifecycle.
Iron Mountain Digital Pathology On Demand
Healthcare and life sciences organizations trust Iron Mountain, a global business dedicated to the storage, protection, and management of information and assets, to provide a digital pathology system that meets their needs. Iron Mountain Digital Pathology On Demand transforms your lab with the ability to:
Explore
Get the images you need when you need them
Cut the wait time for slides by replacing physical slide retrievals with on-demand whole slide imaging, online viewing via a secure online portal, and a pathway to artificial intelligence (AI) for smarter searching and faster insights.
Share and collaborate easily
Leverage on-demand scanning and the ability to easily access and search slides from anywhere on our secure platform via a single web-based portal for faster collaboration with colleagues down the hall, or throughout the organization, to minimize time to insight. Authorized users can search, annotate, and share images to facilitate collaboration and research while protecting PHI.
Stop worrying about digital image storage and management
Offload slide and image storage and management to professionals experienced in asset preservation and data protection. Iron Mountain has experience managing more than one billion slides and blocks in more than 150 temperature-monitored facilities meeting the 2021 US College of American Pathologists (CAP) recommendations. Scalable cloud storage solves data management issues and auditable chain of custody, secure storage, data encryption, access restriction, and role-based permissions keep data safe.
Industry fact
Large pathology centers might need to produce around 1 million digital slides, resulting in 1pb of uncompressed data each year.
Speed research results
We can help you streamline lab workflows, improve collaboration, and securely offload long-term slide and digital image storage. To see a demo of Digital Pathology On Demand, reach out to an Iron Mountain expert.
™ 2023 Iron Mountain, Incorporated and/or its affiliates ("Iron Mountain"). All rights reserved. Information herein is proprietary and confidential to Iron Mountain and/or its licensors and may not be used for competitive analysis or building a competitive product or otherwise reproduced without Iron Mountain's written permission. Iron Mountain believes the information is accurate as of its publication date, but such information is subject to change without notice, is provided AS-IS without representation or warranty of any kind including regulatory status or recommended use, does not provide a commitment to regional or future availability, and does not represent an affiliation with or endorsement by any other party. Recipients acknowledge Iron Mountain's products and services are not intended for primary interpretation or diagnostics or in connection with any other clinical decision making, and recipients retain sole responsibility for ensuring their use is compliant with relevant laws and regulations, including those set by the FDA or similar regulatory bodies. "Iron Mountain", the Iron Mountain logo, and combinations thereof, and other marks marked by ® or TM are trademarks of Iron Mountain Incorporated. All other trademarks may be trademarks of their respective owners.