Iron Mountain expands global Data Center network services
Blogs and Articles
Expanded network services provides greater optionality and convenience across Iron Mountain's global Data Center footprint.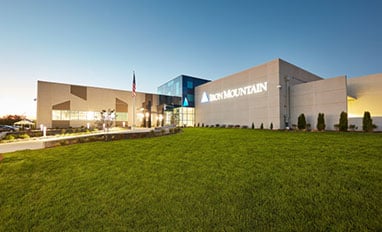 Iron Mountain Data Center customers now have additional options to access the carriers, cloud service providers and partners they need to deliver seamless connectivity anywhere in the world.
Since 2017, Iron Mountain has invested more than $2B+ to acquire and build a global portfolio of strategically located data center assets in North America, Europe and Asia. With more than 3.5M+ gross square feet and 350 megawatts of capacity, Iron Mountain is well-positioned to accommodate any scale requirement.
"Iron Mountain's continued expansion of network service options further demonstrates our dedication to working alongside our customers to deliver what they need," says Mark Kidd, Executive Vice President and General Manager of Data Centers at Iron Mountain. "Our global network service portfolio enables our customers to connect to the carriers, clouds and partners of their choice, in a way that makes sense for their business."
Iron Mountain's full-suite of network connectivity services includes physical and virtual cross-connects, cloud on-ramp connectivity, IP transit, peering, private network transport, and Metro Wave - a newly added service that enables Iron Mountain customers to scale their reach beyond the data center to access any strategic interconnection point.
Iron Mountain's network ecosystem comprises a rich fabric of local, regional, national and global telecommunications carriers, major cloud service providers and peering exchanges. Coupled with the convenience of a single contract and a global team of solution engineers, Iron Mountain helps its customers navigate the increasingly complex array of interconnection choices.
"What excites me about network connectivity at Iron Mountain is the broad portfolio of options we can offer our customers," says Frank Scalzo, GM of Network Strategy and Services at Iron Mountain. "Our network ecosystem can address a variety of customer needs, whether they have a single cabinet or a hyperscale deployment. We've built a rich, interconnected network services framework to provide robust connectivity options across our global data center footprint.
Elevate the power of your work
Get a FREE consultation today!